Program Overview
To celebrate a quarter century of Lean learning, we're bringing you our richest, most diverse Congress program yet. Explore an overview of the program, including Learning Day, the Core Program, and Gemba Day— and check out the interactive agenda for full details.
Congress Tip: Register or log back in to choose your sessions and add-ons, including the Golf Tournament (October 23), Learning Day (October 24), and Gemba Day (October 27).
Core Program
Oct. 25 and 26
The core program delivers curated sessions to inspire Lean acceleration. You'll find relevant, timely, and inspiring content for everyone from frontline field leaders to top executives. This year, we've added two new immersion tracks featuring advanced sessions to strengthen your fluency in Lean tools and concepts. Register or log back in to select your sessions—and find all program details in the interactive agenda.
25 Years of Learning:
Supercharge Your Lean Journey in the Motor City
Tracks
Design Your Vehicle to Improve the Journey: Modifying Culture and Behavior for Success
Engineer Your Vehicle with the End in Mind: Optimizing Design and Preconstruction to Deliver Customer Value
Refine Your Production Systems to Drive Assembly: Aligning Pre-Fabrication and Procurement to Enhance Productivity
Gear Up Your Field Execution to Maximize Efficiency: Utilizing Lean Thinking and Practices to Achieve Desired Outcomes
Lean Integrated Project Delivery Immersion Track
Enterprise-Wide Lean Transformation Immersion Track
Learning Day
Tuesday, October 24 — Congress Add-on
Take a deep dive into the latest Lean topics during Learning Day. Choose one full-day or two half-day courses. Register or log back in to add on Learning Day and choose your courses.
Learning Day Courses
Morning Learning Day Courses (8 a.m. – 12 p.m.)
Fundamental
LCI Introduction to Lean Project Delivery
LCI Last Planner System® in Design
LCI Lean in the Design Phase
Intermediate
Industrialized Construction – A New Horizon for Lean Construction – Fundamentals
LCI Target Value Delivery Module 1: Learning the Fundamentals (New!)
 Intermediate/Experienced
Demystifying the IPD Contract
Do What Matters Most (New!)
How to Build a Lean Culture from the Ground Up for Specialty Trade Contractors
LCI 5S in Lean Construction
LCI Influencing Up for Lean Transformation Within Your Organization
LCI Kaizen Events – Why, What and How
LCI Ready Set Go Scrum
LCI Target Value Delivery Module 3: Organizing for Flow & Efficiency (New!)
Supercharge Your Influence as a Lean Champion (New!)
Afternoon Learning Day Courses (1 p.m. – 5 p.m.)
Fundamental
LCI Introduction to Last Planner System®
LCI Introduction to Lean Project Delivery
Intermediate
A3: Root Cause Problem-Solving
LCI Effective Big Room
The Visual Decision Plotter ™
Intermediate/Experienced
Getting Decisions That Stick in Design & Construction (NEW)
Industrialized Construction – A New Horizon for Lean Construction
LCI Bunches of Coaches: Coaching Coaches
LCI Introduction to Lean Deployment Planning
LCI Intermediate Last Planner System® for Design Practical Application
LCI Target Value Delivery Module 2: Setting the Stage for Success (New!)
LCI Target Value Delivery Module 4: Modeling for Predictable Outcomes (New!)
Using Shared Visualization Skills for More Robust Constraint
The Flow State Experience (New!)
Full-Day Learning Day Courses (8 a.m. – 5 p.m.)
Intermediate
Creating, Managing & Sustaining a Lean Organization
LCI Intermediate Last Planner System®: Practical Application
Intermediate/Experienced
Creating a Culture of Accountability
Takt Planning Workshop and Simulation (New!)
Gemba Day
Friday, October 27 (8 a.m. – 12 p.m.) — Congress Add-on
See Lean in action first-hand during a Gemba Tour of one of these impactful projects. Register or log back in to add Gemba Day and choose your tour.
Gemba Tours
Bedrock's Hudson's Site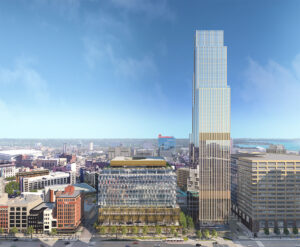 Hudson's, a historic Detroit department store, broke ground in 1891 and closed its doors in 1983. Before then, it underwent 12 expansions, reaching a height of 25 stories and covering an entire city block. Bedrock saw an opportunity to restore the grandeur to Woodward Avenue's 1200 block. The project, currently under construction and led by Barton Malow, includes 1.5 million square feet of office, retail, food and beverage, hotel, residential, event and meeting, parking, and activated open spaces designed by world famous architect SHoP Architects and local Architect of Record Hamilton Anderson Architects. Enjoy this fascinating tour of a historic site being brought back to life.
ProMedica Toledo — Generations of Care Tower (FULL)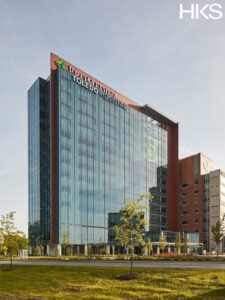 ProMedica Toledo Hospital's 756,600-square-foot (70,290-square-meter), 13-story, 309-bed patient tower, needed to minimize waste, maximize efficiency, optimize functional performance, and provide the best possible patient experience in a patient-centered care environment. To fulfill ProMedica's vision, HKS' design and research teams worked collaboratively in a parametric-applied research project that informed the unit design to increase caregiver efficiency and time at bedside. The Gemba Walk will cover multiple floors and units of the ProMedica Generations of Care tower.
Superior Electric Great Lakes Company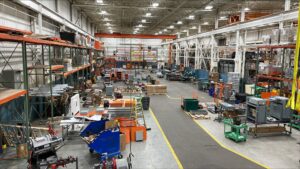 As customers have pushed to lower project costs and shorten delivery schedules, pre-fabrication operations have become a must in the industry. Superior Electric has invested time, effort, and capital to transfer construction labor hours from the field environment and put them into a controlled space where work is preformed more safely, and productivity is higher. These conditions allow the company to better control schedule, reduce installation cost, reduce material waste, and deliver a quality product to customers. Explore pre-fab shop operations on this valuable tour.
US Point of Entry — Gordie Howe International Bridge (FULL)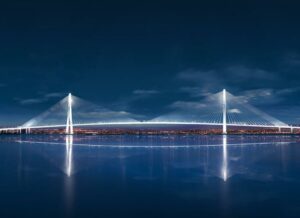 This project consists of the US point of Entry facilities associated with the new Gordie Howe International Bridge, the new crossing between the United States and Canada. The bridge spans the Detroit River. Although this project does not include the cable-stayed bridge itself, there will be a tour up the bridge tower on the Detroit side, as well as of buildings including toll gates, customs and immigration, inspection, and more.